Blog
2014-04-05
Smells good enough to eat 
Smells good enough to eat !
Fragrances inspired by food are becoming increasingly popular….but of course, we taste mostly (and firstly) with our noses. Little wonder then that many fragrances have 'edible notes'. Experts say the popularity of gourmand fragrances lies in their familiarity: the part of our brains that registers scent is also the part that records memory—which is why perfumes can trigger strong emotions. And what could be more comforting than the memories we associate with yummy chocolate, tasty biscuits or decadent sundaes? Who can resist such fragrances? Here are a few you could consider…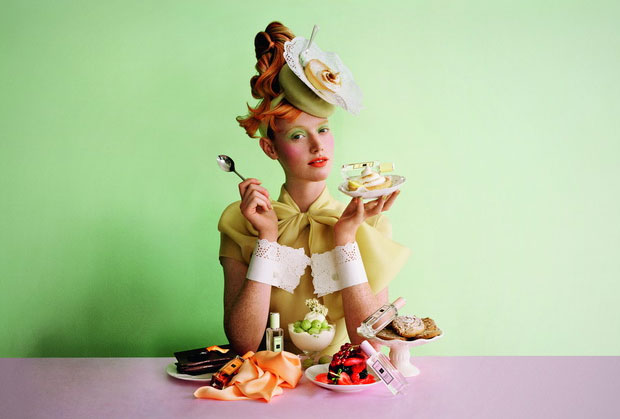 CK ONE SHOCK FOR HER (Calvin Klein) is a scrumptious scent that opens with a bouquet of passion flower and jewelled poppy flower before deepening with blackberry, jasmine and a drizzling of liquid chocolate accord. It sounds like a sundae, doesn't it?
SOMEDAY (Justin Bieber) starts with fresh, sweet, fruity top notes of mandarin, pear and wild berries; the fruit is sweet but not over the top - it smells like sweet berries and crisp pear, and the mandarin adds a citrusy freshness. At the heart of the perfume are creamy florals which are soft and beautiful and a touch of powder. The vanilla and musk base of the fragrance adds warmth and yumminess. Sounds absolutely deliciously juicy, doesn't it?
WOMANITY (Thierry Mugler) Womanity opens with a big blast of citrus, zingy and mouthwatering just like freshly squeezed orange juice! This lasts for a few minutes before the sweet and savoury notes, sweet comes from fig and savoury from caviar. Note you do not smell fish or caviar, the savoury tone is much more like cookies, a tiny bit salty. Womanity is a relatively fresh and interesting fragrance. Sweet but savoury/biscuity notes sound unusual enough to try don't you think?
FAME (Lady Gaga) is a fragrance full of belladonna, incense, honey drops and apricot. It's sweet, it's tart and it's spicy, really such an incredible scent! Who would have ever thought that Lady Gaga would come out with a spicy perfume that is amazing? My opinion is that it's definitely worth a try!
COVET (Sarah Jessica Parker) opens with a good dose of lemon; then wet greens and geranium leaves add interest and smell a bit like I'm in the garden walking on freshly cut grass, but there are plenty of florals in the garden too with creamy magnolias, honeysuckle and lavender which has a calming effect and combines with the chocolate beautifully. Do you love bitter sweet dark chocolate; then you will love this fragrance!
212 SEXY (Carolina Herrera) opens with a loud but warm and musky tones and some pink pepper, but then it stops to take you on a journey from cotton candy to slightly floral, slightly almondy notes and creamy vanilla. If you love cotton candy and good girl sexiness, this is the fragrance you should try!